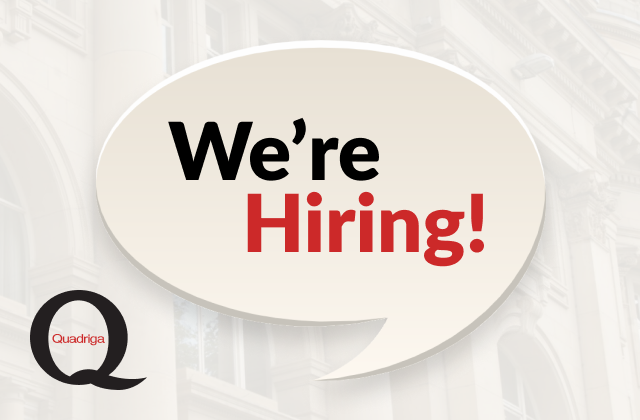 We're hiring!
14th Sep 2020
Quadriga Contracts Ltd are recruiting an Estimator with a construction focus to join the team at their head office in Northwich, Cheshire.
Job Purpose
To be an active member of the Company's Estimating Team, undertaking high quality and accurate Trades pricing as part of the production of tender opportunities from the initial pre-qualification stage through the preparation and adjudication process to final submission. Working will be either autonomously or as part of a team environment dependent upon the size of the bid.
Accountabilities and Key Tasks
To be a proactive member of the estimating team, providing accurate and auditable costings
To be responsible for the delivery of fully costed and detailed pricing in response to client specifications with appropriate back-up data and audit trail documentation.
Assist in the production and submission of tenders for various clients under the direction of the Operations Director.
Control of all actions, methods & output of each estimation under his/her remit
Provide support to other members of the team.
Liaise with the client's representatives to ensure correct interpretation of their requirements and constraints
Carry out site surveys and produce spreadsheet analysis of the results
Liaise with the operations staff to ensure a complete solution is put forward against the specific requirements
To comply with the Company's Policies, Management Plans and Procedures
To fulfil Health & Safety responsibilities by adherence to the requirements of the Company's Health & Safety Policy and Health & Safety Management Plans
To support the Company's Quality Policy Statement and actively participate in the achievement of Company and personal Quality objectives
Essential Criteria:
Relevant industry experience as an Estimator
Commercial awareness
Sound working knowledge of the local market.
Extensive trades knowledge
Time, resource & financial managerial experience
Able to plan and organise effectively
Well-developed people management skills
Strive for business excellence & continuous improvement.
Health & Safety
Quality control
Strong communication skills – both written and verbal
Highly computer literate and analytical – competent in use of Microsoft Excel and estimating software
Current driving licence
Quadriga delivers award-winning refurbishment projects across the public and commercial private sectors.
Quadriga is an equal opportunities employer and encourages applications from suitably qualified and eligible candidates regardless of gender, race, disability, age, sexual orientation, gender reassignment, religion or belief, marital status, or pregnancy and maternity.
If this role sounds like a good fit please email Lindsay Law on lindsay@quadrigaltd.com
---
Back to Blog