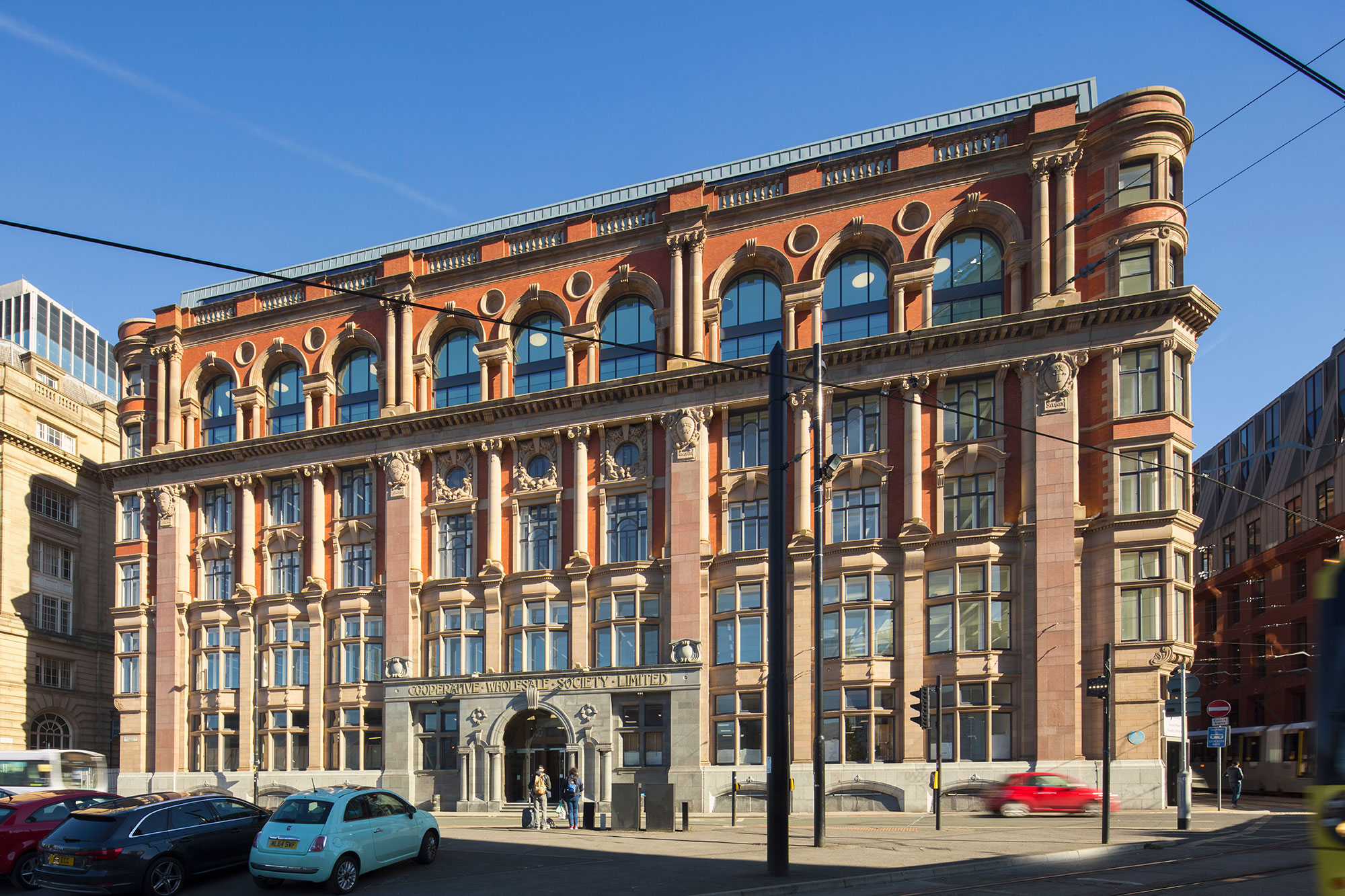 Four industry awards for Hanover House
1st Oct 2019
In late 2016 Quadriga were awarded the 'Heritage Package' at the Hanover Building in Manchester by Russells Construction.
Hanover is comprised of two Grade II listed former Co-Operative Buildings; a drapery warehouse constructed in 1904 and a second building housing offices and warehouse space, opened in 1909.
It is a stunning example of Edwardian baroque architecture, designed by Co-operative Wholesale Society architect F. E. L. Harris and utilising the most advanced construction techniques of the time.  The overall construction cost was £50,000 (equivalent to £5.5 million today).
The two buildings have been connected via a new reception, atrium and link bridges to provide Grade A office space with unique historic features.  Hanover is now an integral part of NOMA, a 20-acre mixed-use redevelopment scheme in the city centre with Amazon having secured the space for their Manchester HQ.   The ground floor provides flexible retail and leisure opportunities.
As part of the package, Quadriga undertook a range of sympathetic restoration works to support the protection and enhancement of both the building and the area's rich heritage.
Many of the building's Edwardian tiles were missing or damaged and almost all had been covered with layers of lead paint.  Our first task was to remove this paint to expose the original tiles.  This was done using the Peel Away system where a paste is applied, covered and left before being peeled away, encapsulating the lead paint and safely removing it.   Peel Away ensures that no lead particles are released into the air as they might be if the paint was to be manually scraped or chipped away.  The tiles were then given a clean with water and a cloth which brought them back to their original state.
Once the tiles had been exposed, the extent of repairs became clear.  Fire damaged tiles had to be carefully cleaned, before in situ repairs and replacements were carried out.  Quadriga invest into research and development and devised a technique whereby individual tiles can be repaired or replaced in situ before paint and finishes are carefully applied to ensure a perfect match to the original aesthetic.   Bespoke handmade tube lined tiles were created to match the originals.  The tile design is first piped, giving the raised effect. Following this the tiles are then hand painted, glazed and matched as closely as possible in colour to the original.

The walls of the 8-storey building's stairwells are completely covered in glazed tiles so much time was spent painstakingly restoring them back to their former glory and they are once again a stunning heritage feature.
The wrought iron balustrades and handrails to the staircases were removed, restored and  replaced where necessary before being reinstated.  Once in place the balustrades were coated using black hammerite metal paint which offers a beautiful finish and added protection against rust and general wear.
The wrought iron gates were also restored using Peel Away to strip the lead-based paint they had been coated with.
One of the standout heritage features of the Hanover Building is the wooden parquet flooring which had unfortunately fallen into a state of disrepair.  Many blocks needed to be replaced; where possible existing blocks were re-used and where new blocks were required, they matched the existing as closely as possible with samples approved before work commenced.

Work on the Hanover Building was completed in August 2019 and it is a superb example of historic and modern architecture coexisting and complimenting one another. This sentiment has been echoed by the awards the project has already won:
2019 BCO North Awards – Refurbished / Recycled Award
2019 RICS North West Awards – Building Conservation Project of the Year
2019 Insider Property Awards – Commercial Development of the Year
2019 The Institution of Structural Engineers, North West Awards – Most Sustainable Project
---
Back to Blog