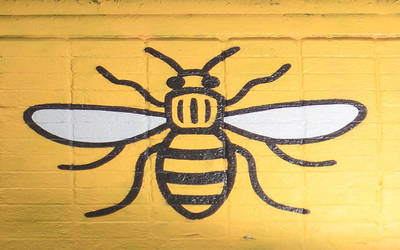 What's the buzz around Manchester?
18th Mar 2019

The bee has been a symbol of Manchester since the industrial revolution and is an important part of its history and identity. Manchester's coat of arms even features a globe swarming with bees.
During the industrial revolution textile mills formed a prominent part of the Manchester landscape. Described as 'hives of activity', the workers inside the mills were compared to worker bees and it was often said that "everyone in Manchester is as busy as bees."
Manchester pioneered mass production as it became the world's first industrial city and it was around this time that Manchester City Council unveiled the city's Latin motto: Concilio et Labore, "With diligence and hard work".
A quick walk around the city reveals a myriad of bees adorning some of its most iconic historical buildings. The bee can be seen on the clock face of the Palace Hotel and the mosaic floor of the town hall as well as on every bollard and bin in the city.
Following the devastating attack at Manchester Arena in May 2017, the bee became a symbol of defiance, unity and resilience and with it came a renewed pride and awareness of Manchester's most prolific creature.
You can't help but see the bee everywhere you look now, including tattooed on Mancunians and visitors alike.
---
Back to Blog