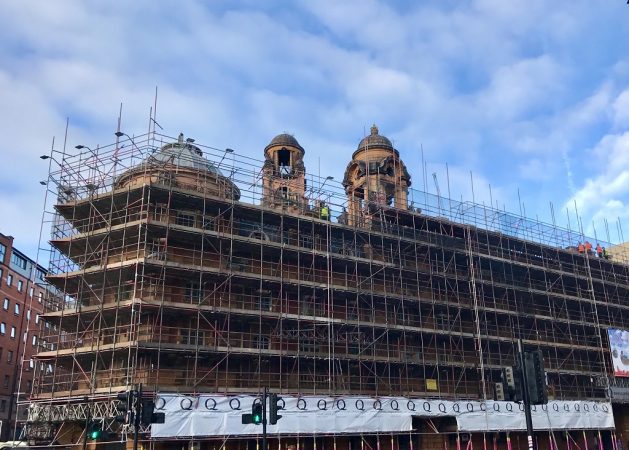 Update on restoration works at London Road Fire Station
2nd Mar 2020
Work is progressing well to Grade II*listed London Road Fire Station in Manchester.
This iconic landmark was designed by Woodhouse, Willoughby and Langham and upon its opening in 1906, it was declared "the finest fire station in the world" by Lord Mayor Thewlis. However, the building served not only as a fire station but also as a police station, bank, gas meter testing station, ambulance station and coroner's court. There were even living quarters within this mammoth complex, home to firefighters and their families along with many memories.
After the fire station closed in 1986, it sadly fell into a state of disrepair but received hope of a new lease of life in 2015 when it was acquired by Allied London.
Extensive sensitive restoration began last year with Quadriga Contracts appointed Principal Contractor working alongside North West based specialist subcontractors.
The iconic terracotta façade has been cleaned using a superheated steam system which sensitively removes dirt and grime without causing damage to the material. Inappropriately harsh cleaning of terracotta can remove the surface glaze which renders the terracotta blocks porous and allows water ingress. The glaze cannot be put back insitu which is why it is vital to use a gentle and appropriate cleaning method.
The hose drying tower which sits on the Fairfield side of the building was cleaned using the method above before repair work was carried out. Replacement terracotta blocks have also been installed where necessary, manufactured offsite by industry experts Darwen Terracotta.
Restoration and repair works are also complete to the roof level terracotta temple on the London Road side of the building. On the corners of the temple are four sculptures; a girl sitting next to a lion to represent strength, a mother cradling her baby to represent nurturing, a woman with a sword and scroll to represent justice and a crowned queen with a cornucopia to represent abundance.
Continuing on the London Road wing of the building, roof covering works are complete with work beginning next on the mansard roof area. The roofing works are being managed by Swindells Roofing, a North West contractor with over 125 years' experience in the industry. An on-site lead workshop has been established and leadwork for the roofing is crafted here. Chimney stack repairs to this section of roof are complete which included the replacement of some terracotta blocks.
Rainwater goods were disassembled quite early on in the process to allow repair and replacement works to commence. Bespoke patterns have been formed to cast replica rainwater pipe brackets with fleus-de-lis detailing to match the original. This has been carried out by Calibre Metalworks, a local company with specialist experience in conservation.
There are a large number of sash windows around the building and restoration work to them is continuing at a good pace. Windows to the London Road and Whitworth Street elevations are being restored and refitted with the aim of retaining as much of the original as possible. Any damaged, missing or non-original panes of glass are being carefully replaced with heritage glass. The original window fittings and fixtures have been sympathetically cleaned on site and will be reinstated to the original windows.
Heritage restoration always aims to preserve as much of the original building fabric and features as practically possible. London Road Fire Station is an iconic and integral piece of Manchester's history and as such, it is vital to ensure a lasting legacy to represent the past and foster heritage appreciation in the future.
The conservation of our heritage plays an important part in defining the sense of identity, community and continuity of a place in an ever changing world. It invokes emotions, harbours memories and sparks dialogue and Quadriga are extremely proud to be part of preserving this very special piece of Manchester's historic landscape.
---
Back to Blog