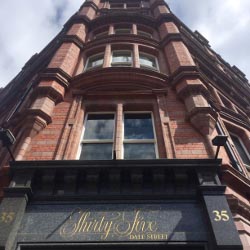 Why preserve old buildings?
7th Jan 2019
We hear a lot about up and coming modern developments but it's vital we don't forget about our heritage buildings which can be as much a part of our future as new builds. The integration of heritage buildings and modern developments can be extremely successful, providing a unique insight into the local culture past and present.
There are many benefits to preserving historic buildings and structures.
1. They offer an insight into culture and history
Heritage buildings are tangible pieces of history. By visiting such buildings we can immerse ourselves in the past and develop our understanding of former societies. Buildings offer insights into the culture and history of a certain place with much more impact than books or television programmes. You don't have to imagine what the past was like when you can see it for yourself.
2. Once they're gone, they're gone
There's no worse feeling than regret and this is especially true with old buildings. If a historic building is demolished, we don't just lose the architecture and fabric, we lose important history, culture and identity which can't be replaced. Likewise if a building is allowed to fall into a state of disrepair then demolition may be the only viable financial option and history is permanently lost.
3. Heritage Happiness
It's been proven that heritage makes us happy! The Heritage Counts 2014 report showed that visiting heritage sites has a positive effect on wellbeing, even more so than playing sports. Similarly, a 2016 report from Historic England found that 93% of residents say local heritage has an important impact on their personal quality of life. Historic sites not only add value to communities through happiness and increased income but they also improve the local landscape with 80% of people believing heritage sites make their home a better place to live. Historic buildings are viewed favourably due to their beautiful and often grand architecture whilst also conveying a sense of longevity and local pride.
4. They're good for the economy
Heritage sites attract tourists, tourists bring money and money can be pumped back into the maintenance of a site and the local community. People will travel from all over the country and the world to explore unique and well cared for heritage sites and this can help future proof the history and culture of an area. Communities and cities can also benefit from the repurposing of historic buildings as they can be restored sympathetically to meet modern day needs. A good example of this is the Hanover Building in Manchester which is part of the modern NOMA development. The building was once used as a drapery warehouse and whilst the use will change, the architecture and fabric is being carefully restored and preserved. The result will be a fusion between modern and historic; a preservation of the past that can be used and appreciated by generations to come.
5. Sustainability
Transforming heritage buildings into adaptable spaces that meet the needs of modern society helps to ensure sustainability for the future. Preserving or repurposing old building requires much less energy and time and produces less waste than demolition and new builds. It's also possible to use energy conservation techniques in older buildings to reduce energy wastage and costs and to enhance comfort for those visiting or working there.
6. Preserving historical crafts
In order to preserve heritage buildings, heritage skills are required to make sure that the techniques used and the final refurbishment and repairs match as closely to the original as possible. If we don't continue to preserve old buildings, we lose the need for these specialist heritage skills and they will eventually die out. It's vital to preserve historic skill sets such as heritage plastering so that this element of the past is not lost.
7. Quality design and construction
Many heritage buildings, although maybe in need of repairs, are of sound structure. The original quality of the design and construction has meant that the buildings have stood the test of time and if they are well cared for and preserved they will stand for many more years to come. Longevity is key here, many modern buildings come and go but heritage buildings were designed to last and this adds to the importance of them as landmarks in our social and cultural landscape.
Quadriga are currently developing a CPD seminar on the importance of repurposing historic building, covering the benefits and key considerations. If you'd like to find out more about the CPD seminars we offer please visit http://www.quadrigaltd.com/cpd-seminars/
---
Back to Blog