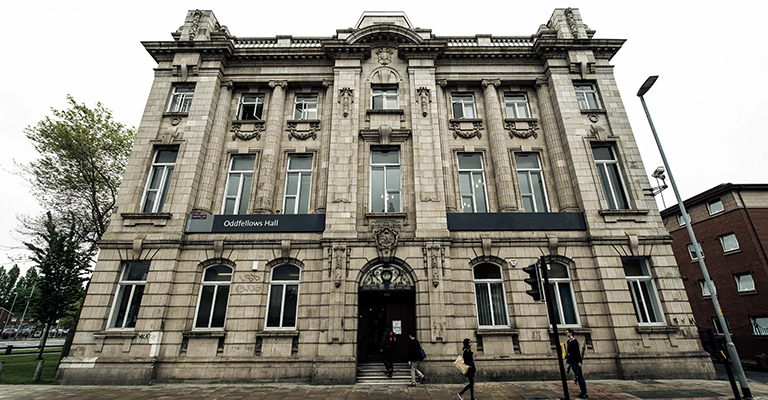 Work complete to Oddfellows Hall
16th Sep 2020
Quadriga completed work at Grade II Listed Oddfellows Hall in Manchester in 2020.  The building forms part of the new Manchester Engineering Campus Development at the University of Manchester which will be one of the largest, single construction projects undertaken by a higher education institution in the UK.
The hall was built for the Oddfellows Friendly Society around 1915.  The Oddfellows is a non-political international fraternity first documented in London in 1730.   The society promotes friendliness, benevolence, charity and philanthropy.  Oddfellows Hall was built in the Edwardian Baroque style and decorative features can be found throughout the building from the terrazzo floor to the ornate tiles to the mosaic on the floor of the entrance, depicting the Oddfellows Society crest.  The building came under ownership of the university in the 1960s with the society relocating twice since.
The building was initially set to be demolished in 1970 and was designated for temporary use in the meantime.  The Manchester Museum of Science and Technology (now know as the Science and Industry Museum) needed temporary premises while its Liverpool Road site was being redeveloped so it moved into the building along with the Methodist Chaplaincy.
After the Methodist Chaplaincy left in 1972, the museum took over the whole site, renaming itself the North Western Museum of Science and Industry and decorated the side of Oddfellows Hall with a huge mural depicting industry.
The museum remained until 1983 and until recently, the building served as university offices and also housed the University Language Centre.
Quadriga were employed to carry out surveys and following this to restore this historic building.
Following its completed restoration by Quadriga, it will now serve as an integral part of the £400 million campus development and is a great example of using heritage buildings within a modern context.
Works included
Super-heated steam clean of facade
Terracotta repair and replacement where required
Re-pointing and repair of brickwork
Repair, replacement and redecoration of timber windows
Constructing a new timber cupola frame with copper cladding to the dome
Tile repair
Stained glass repair and replacement
Replacing brass hinges on windows
Terrazzo floor repair
Restoration of decorative floor in entrance
Installation of suspended ceilings
Installation of a new roof light
---
Back to Blog